When
Friday, January 26, 2018 -
Where
BSL Moot Court Facility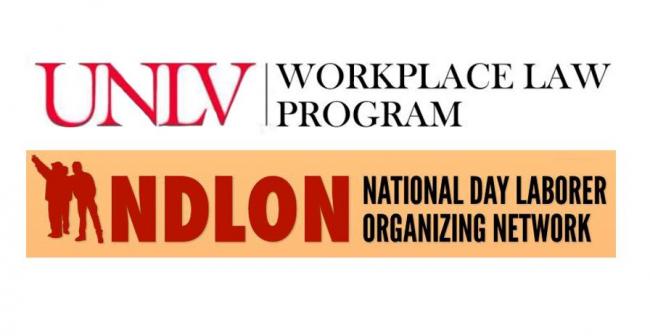 William S.

Boyd

School of Law


University of Nevada, Las Vegas




Workplace Law Program




and




The Las Vegas Worker Center




present
Day Laborers in the City of Lights: Key Developments in Immigration Law and Policy
January 26, 2018
10:00 a.m.-2:00 p.m.
Thomas and Mack Moot Court Facility
3 CLE credits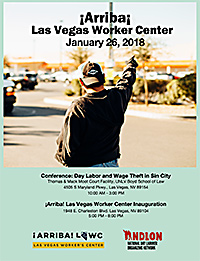 Download the event flyer
The Las Vegas Worker Center and the William S. Boyd School of Law Workplace Law Program will hold a forum to take stock of the national political landscape, to share key developments in immigration law and policy, and to highlight local efforts in Las Vegas to respond to the crisis of wage theft and on-the-job injuries in the Las Vegas Valley. The forum will bring national civil rights and immigrant rights leaders and scholars together with local community stakeholders, as Las Vegas residents chart a path forward to improve workplace and immigration conditions for day laborers.
PRESENTERS
Thomas Saenz, President and General Counsel for the Mexican American Legal Defense and Educational Fund (MALDEF) will discuss civil rights and day laborers role in defending bedrock constitutional values.

Pablo Alvarado, Executive Director of the National Day Laborer Organizing Network (NDLON) will share past and present efforts of day laborers to expand labor and workplace protections for immigrants and native-born workers.

Associate Dean and Professor Nik Theodore from the University of Illinois at Chicago will share a groundbreaking study profiling the large and growing day laborer community in Las Vegas. Additionally, he will share a presentation on seminal study examining the social distance between immigrants and police caused by devolved immigration enforcement policies.
Associate Dean and Professor Ruben J. Garcia, UNLV Boyd School of Law, will put the study on informal labor markets in the broader context of the failure of workplace law to adequately protect low wage workers at the federal and state levels. He will suggest ways to improve the law for marginalized workers in the years to come.
Professor of Law and Immigration Clinic Director Michael G. Kagan, UNLV Boyd School of Law, will put the day laborer study in the context of current debates about immigration reform.
FREE OF CHARGE