Let's Make a Deal
Mediation Clinic students develop critical ADR skills while assisting with a federal court program that aims to settle civil rights lawsuits filed by Nevada inmates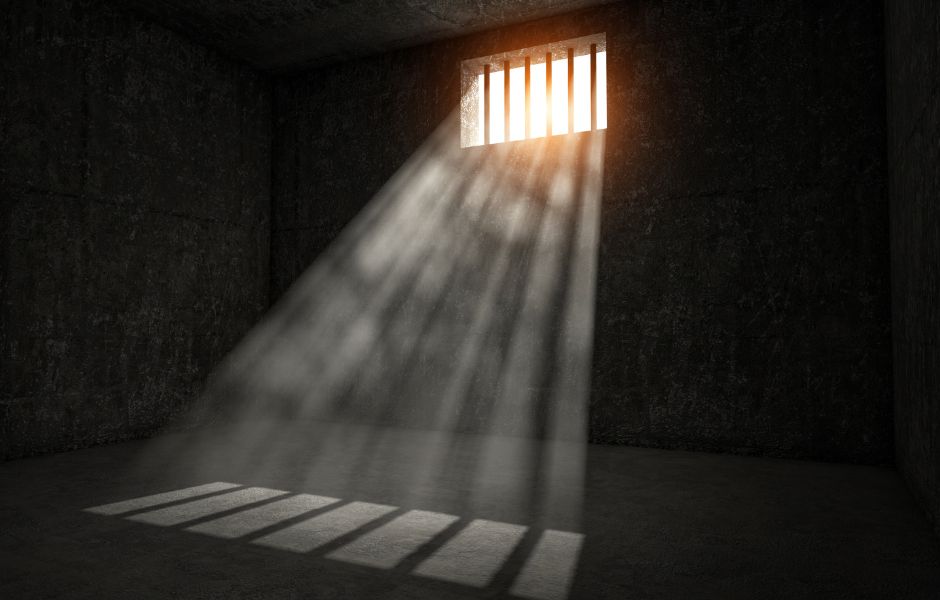 By Matt Jacob
Many students who attend the Boyd School of Law at UNLV find their way to the Saltman Center for Conflict Resolution because they have a passion for the center's general mission: to help people settle legal disputes before their battle ends up in a courtroom.
Alix Goldstein was not such a student.
In fact, Goldstein didn't get involved with the Saltman Center until her final semester as a Boyd School of Law student in spring 2023. That's when she learned that the school's Mediation Clinic was involved in a federal program in which Boyd students co-mediate civil rights claims brought by Nevada inmates against the state's Department of Corrections.
This program piqued Goldstein's interest because she had recently secured a one-year federal clerkship. Upon being hired for the clerkship, Goldstein was informed that much of her caseload would include these federal lawsuits known as Section 1983 (which is part of the Civil Rights Act of 1871).
"At Boyd, I didn't do a concentration in ADR (alternative dispute resolution)," Goldstein says. "But when I learned that the Mediation Clinic was involved in these Section 1983 civil rights claims, I thought it would be a fantastic way to prepare for my federal clerkship."
Goldstein and five other Boyd students first were required to complete a two-unit course that equated to 40 hours of mediation skills training. From there, Goldstein was assigned to four cases by Boyd professor and Mediation Clinic director Lydia Nussbaum (who also directs the Saltman Center).
In addition to reviewing all documents related to the case, Goldstein and her students colleagues participated in interviews with inmate plaintiffs and representatives of the Nevada Department of Corrections, discussed mediation strategies with Nussbaum, and worked with Nussbaum to conduct the actual mediations, which were done virtually.
"I had learned mediation strategies in texts, but this allowed me to put those strategies into action through real mediations with real parties," says Goldstein, a Las Vegas native who completed her juris doctor in May. "It helped me specifically because I'm dealing with actual Section 1983 claims in my current federal clerkship. It's at a different point in the litigation process, but being involved in the inmate early mediation program helped me understand the cycle of litigation and where these claims originate from."
Launched in 2007 by Magistrate Judge Valerie Cooke, the early inmate mediation program was designed to help resolve a backlog of Section 1983 claims, which account for a large chunk of the U.S. District Court of Nevada's docket.
Since the program's inception, volunteer mediators have overseen the cases, which arise from inmate claims of civil rights violations. The allegations directed at the Nevada Department of Corrections involve a perceived violation of rights protected by the U.S. Constitution. For example, inmates sometimes bring claims under the Eighth Amendment to allege deliberate indifference to serious medical need or excessive use of force or under the First Amendment to allege interference with practicing religious faith.
An experienced mediator, Nussbaum has done significant pro bono work for the inmate early mediation program. Then in 2017, she presented a win-win idea to the District Court of Nevada, suggesting that Mediation Clinic students be allowed to work on the cases and serve as co-mediators.
Not only would the students lighten the workload for everyone involved, but they would gain real-world, hands-on mediation experience with constitutional law claims.
"Although very few of our graduates pursue careers as mediators — at least right after law school — learning how to mediate and how to facilitate settlement negotiations is incredibly beneficial for lawyers-to-be," Nussbaum says. "And these particular cases give students the opportunity to learn about and be engaged in legal cases that involve alleged violations of constitutionally protected rights, which is a very complex area of law."
During the spring 2023 semester, six Boyd students (including Goldstein) worked on 19 different Section 1983 cases. That number was expected to rise to 23 during the fall semester.
A new group of students comes on board every semester. Each works about 10 hours per case, and most mediate two to four cases per semester.
Of course, not every inmate-filed lawsuit is resolved in early mediation — in fact, the District Court of Nevada estimates that a quarter resolve at in this early stage of a case. Still, Nussbaum and Goldstein agree it's a worthwhile endeavor for all parties.
"Even if a case doesn't settle, we can help the inmate plaintiffs feel like they've been heard, had an opportunity to be treated with dignity and respect, and for some of their concerns to have been acknowledged and considered," Nussbaum says. "The program also teaches students not only about the possibilities that mediation offers but also the real limitations lawyers encounter with mediation.
"They're excellent case studies for settlement negotiations, with students learning why they work, and — most importantly — why they break down."
Adds Goldstein: "Alternative dispute resolution applies to all different types of legal cases, so it's critical for young lawyers to acquire these skills and understand all the various ADR strategies. I know I'll access these skills throughout my career — wherever my career takes me."