Marketa Trimble
Samuel S. Lionel Professor of Intellectual Property Law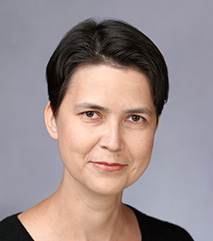 Areas of expertise:
Patent Law, Conflict of Laws, Cyberlaw, International Intellectual Property Law, Private International Law, Intellectual Property Law, Copyright Law, European Union Law, Comparative Law
Bio:
Marketa Trimble specializes in international intellectual property law and publishes extensively on issues at the intersection of conflict of laws/private international law and intellectual property law, particularly patent law and copyright law. She has authored numerous works on these subjects, including Global Patents: Limits of Transnational Enforcement (Oxford University Press, 2012), and is the co-author of a leading international intellectual property law casebook, International Intellectual Property Law (with Paul Goldstein, Foundation Press, 2012, 2016, and 2019). She has also authored several works in the area of cyberlaw, particularly relating to the legal issues of geoblocking and the circumvention of geoblocking. Her areas of interest have led to the investigation of alternative dispute resolution mechanisms employed to resolve intellectual property disputes, such as disputes regarding internet domain names and IP infringements at trade shows. She is a member of several professional and academic organizations; she is an elected member of the American Law Institute and of the International Academy of Comparative Law and she is a member of the Scientific Advisory Board of the Max Planck Institute for Innovation and Competition. Professor Trimble joined UNLV after receiving her second doctoral degree from Stanford Law School. In the spring 2021 semester she teaches "International Intellectual Property" and "Cyberlaw."
In the News
Technology & Marketing Law Blog

Technology & Marketing Law Blog

Boston University Journal of Science & Technology Law, Vol. 25, 2019

Technology & Marketing Law Blog
Faculty Notable
On September 10, Professor Trimble presented at the conference of the Italian law review "AIDA - Annali italiani del diritto d'autore, della cultura e dello spettacolo." Her presentation was based on her article titled "The Public Policy Exception and International Intellectual Property Law."
On September 8, Professor Trimble presented on a panel of the 15th FIDE/TIPSA Global Digital Encounter (GDE). She joined her colleagues from the International Law Committee ("ILA") on Intellectual Property and Private International Law and discussed the Committee's Kyoto Guidelines, which the ILA approved last December.